1. Can Dogs Eat Chocolate?
This is probably on that most dog owners already know that their dogs shouldn't eat, therefore I thought I would list it first.
Why it is bad for our dogs: 
It contains caffeine and theobromine which is in the methylxanthines category. White chocolates contain less methylxanthines and are therefore less toxic then darker chocolate, but you shouldn't give them white chocolate either.
If a dog eats it, it can cause comiting, dehydration, abdominal pains, severe agitation, muscle remors, irregular heart rhytm, elevated body temperature, seizures and in worst cases, death.
2. Can Dogs Eat Onions?
Well onions goes well with pretty much any food, except dog food. It will make you cry, but it will do far worse to your dog.
Why it is bad for our dogs: 
Onions contain an ingredient called thiosulphate which is toxic to dogs (and cats). If they ingest it, it will cause a condition called hemolytic anemia which is characterized by doing damage to the red blood cells.
This can cause your dog to get diarrhea, vomiting, breathlessness and lethargy. Your dog can also lose interest of food if they eat onions. After your dog eats onions it may take up to four days before you start to notice any symptoms.
3. Can Dogs Drink Milk?
This is something that most people probably don't know or think about. Because the puppies drinks milk from their mother when they are growing. But just like humans, dogs can be lactose intolerant.
Why it is bad for our dogs: 
It contains milk sugar and dogs don't have the enzymes needed to break it down.
If your dog drinks milk it could lead to vomiting, diarrhea and other gastrointestinal problems. However it is not life threatening for dogs to drink milk, but it can contribute to large bacterial exposure that could lead to disease.
4. Can Dogs Eat Cheese?
This one is bad for you for the same reason as milk is. Sorry boy, no grilled cheese sandwich for you.
5. Can Dogs Eat Macadamia Nuts?
Macadamia Nuts is something that researchers found out recently can be very harmful to our dogs if eaten. Besides that fact that they can, just like humans, be allergic to nuts.
Why it is bad for our dogs: 
The nuts are known to give dogs a toxic reaction if eaten, however they have not yet figured out what the specific chemical in them are.
If your dogs eats them they develop weakness and an inability to walk, primarily in their rear legs. It will also cause vomiting, staggering gait, depression, tremor and hypothermia.
6. Can Dogs Eat Grapes & Raisins
Just like Macadamia Nuts, grapes and raisins can be incredibly toxic for dogs.
Why it is bad for our dogs: 
Just like with macadamia nuts, the chemical and compound that are toxic for dogs inside grapes are unknown. But the results if they eat them can be quite devastating.
If eaten by your dog it can cause rapid kidney failure. If they get kidney failure, they may die in 3-4 days. However it varies from one dog to another. Not all dogs get it. Besides kidney failure, it can also cause vomiting, diarrhea and lethargic state. They can also become dehydrated and lose interest in food.
7. Can Dogs Eat Garlic?
Besides giving your dog a bad breath, it can cause some serious problems. Try to think of your dogs as vampires and keep them away from any raw garlic.
Why it is bad for our dogs: 
The stronger the onions, the more toxic it can be. Garlic is part of the onions family and because it is stronger then normal onions, it is more toxic as well.
It will give similiar symptoms to normal onions. They will also be very tired and reluctant to move. The dog's urise will be orange or dark red in colour.
8. Can Dogs Eat Avocado?
I know guaccamole is really good, but you really shouldn't share it with your best friend. He will thank you for it later.
Why it is bad for our dogs: 
Avocado contains a toxin called persin. They can cause your dog to get an upset stomach, breathing difficulties, fluid buildup in the chest. However one of the more dangerous things in avocado seems to be the pit. Because its slippery, it can accidentally be swallowed by dogs, leading to abstuction of the gastrointestinal tract, or it can get stuck in the throat.
9. Can Dogs Eat Apples?
Eating apples in moderation is not problem at all, but you shouldn't give them the core. I don't eat apple cores, do you? I think most people don't, therefore you need to make sure that you throw it away when your done eating and not leave it somewhere that your dog might get to it.
Why it is bad for our dogs: 
The apple core (and plums, peaches, pears and apricots) contain cyanogenic glycosides which also is known as cyanide. Symptoms that your dog can get from this toxin are dizziness, struggling to breath, seizures, callapsing, hyperventilation, shock and even coma.
10. Can Dogs Eat Yeast Dough?
It's a know fact that bread is just empty carbs and therefore can make you fat if you eat large quantities. However fat is the least of your worries if you give it to your dog.
Why it is bad for our dogs: 
Raw yeast dough from making bread and ferment in a dog's stomach and become toxic.
Besides that toxic from the alcohol being produced in your dog's stomach, it can also expand your dog's stomach or intestines and create a large amount of gas in the digestive system. This can give your dog severe pain and even a ruptured stomach or intestinal tract. They may also get symptoms such as vomiting, abdominal discomfort and lethargy.
11. Can Dogs Eat/Drink Caffeine?
I don't really know who would share a cup of coffee with his dog? Or a dog that actually wants coffee? Nevertheless you should never let your dog drink any coffee or let them near anything with caffeine.
Why it is bad for our dogs: 
Coffee contains a stimulant known as Methylated xanthine, which stimulates the nervous system in dogs which can cause comiting, restlessness, heart palpitations and in worst case even death.
12. Can Dogs Eat Bacon?
I was suprised myself when I found out about this one. I feel sorry for them to not be able to eat one of the greatest food there is. Remember this one the next time you want to give you best friend some bacon at the breakfast table.
Why it is bad for our dogs: 
Bacon is very rich in fat, and foods rich in fat can give your dog the disease pancreatitis. When a dog has developed pancreatitis, their pancreas become inflamed and stop functioning correctly. This can lead to all kinds of problems with digestion and nutrient absorption.
13. Can Dogs Drink Alcohol?
Beer, wine, liqour, foods containing alcohol – none of it is good for our dogs. I mean come on, it's not good for us, why should it be for them?
Why it is bad for our dogs: 
It has the same effect on a dog's liver and brain that it has on us humans. But it doesn't take as much to do the damage. Just a little of it can cause comiting, diarrhea, central nervous system depression, problem with coodination, difficulty with breathing, coma, even death.
14. Can Dogs Eat Candy & Gum?
Well that's not really a surprise, is it? You can't split your ginger bread house with your dog, sorry.
Why it is bad for our dogs: 
Candy, gum, baked goods and other diet foods that are sweetened with xylitol. It can case more insulin to circulate through the body of the dog, that will cause the blood sugar to drop and it can also cause the liver to fail. Other symptoms include vomiting, lethargy, loss of coordination and seizures.
15. Can Dogs Eat Eggs?
Cooked eggs is not a problem, but you shouldn't give him raw eggs. Your dog is not a body builder! why would you give him raw eggs?
Why it is bad for our dogs: 
Eating raw eggs you always got the possibility of being food poisoned from bacteria like Salmonella or E. coli. The other problem with raw eggs is that an enzyme in raw eggs interferes with the absorption of a particular B vitamin. This can cause your dog to develop skin problems as well as problems with the coat if they it eat for a long time. Fully cooked eggs are no problems though.
16. Can Dogs Eat Salt?
Even if your dog is a real food gourmet, there is no need to put salt on his food.
Why it is bad for our dogs: 
Too much salt can cause excessive thrist and urination and it can lead to sodium ion poisoning. Symptoms may include vomiting, diarrhea, depression, tremors, elevated body temperature and seizures. And in worst cases, death.
17. Can Dogs Eat Cinnamon?
This is a no-no. Besides why would anyone give cinnamon to their dog?
Why it is bad for our dogs: 
Cinnamon and it's oils can irritate the inside of a dog's mouth making them feel unfomfortable and sick. It can lower a dog's blood sugar too much and it can casue vomiting, diarrhea, increased or decreased heart rate and liver disease. If they were to inhale cinnamon in powder form, it will cause difficulty with breating, coughing and choking.
18. Can Dogs Eat Almonds?
Another nut that is bad for your dog. however they are not necessarily as toxic as Macadamian Nuts.
Why it is bad for our dogs: 
They can block the esophagus or even ear the windpipe if not chewed completely. Salted almonds are especially bad because they can increase water retention which is potentially fatal to dogs prone to heart disease.
19. Can Dogs Eat Coconut & Coconut Oil?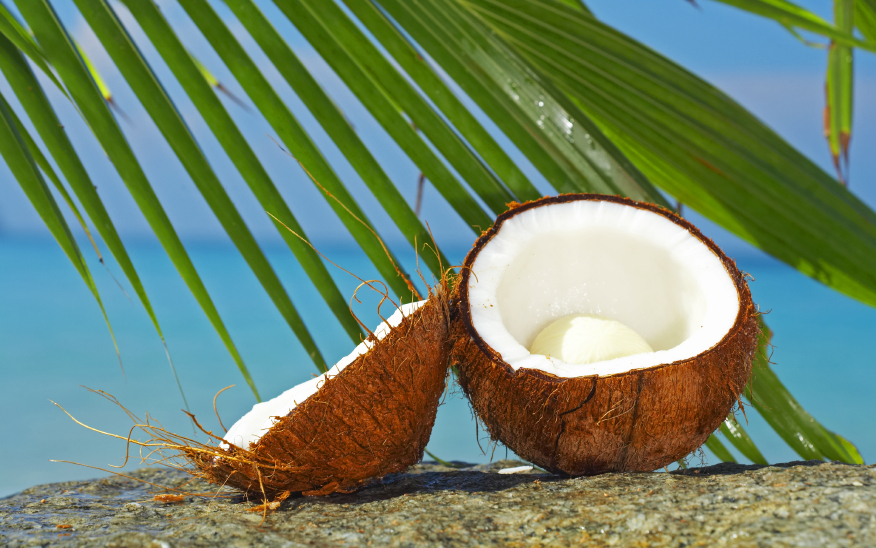 These are bad for your dog only if they eat large quantities.
Why it is bad for our dogs: 
The flesh and milk of freash coconuts contain oils that may cause stomach upset, loose stools or diarrhea.
20. Can Dogs Eat Cherries?
There are many different types of cherries, and all of them are pretty popular snack food. It's not hard to figure out why – they are delicious!
Why it is bad for our dogs: 
The pulp of the fruit is actually safe for your dog to eat. However the plant and pit are toxic and contain cyanide. Eating them can result in respiratory failure and even death.
21. Can Dogs Eat Currants?
This is another one I had no idea were toxic for our dogs. But now I know I can't share currants with my dog in the summer. Too bad.
Why it is bad for our dogs: 
It's toxic for the same reason as grapes and raisins are toxic.