Featured image source: Pinterest
If you are looking for dogs that don't shed fur, then you have come to the right place! I have included 30 different dog breeds that shed nothing or very little. I got a one myself that sheds ALOT and it can be quite annoying to always have hair flying around the house. That alone can be a good reason to get one of these breeds . If you or someone in your family are allergic, then it can be a smart move to get one of these dogs aswell.
The affenpinscher is also known as the "monkey dog". Affen means ape/monkey in german. This little guy is feisty and full och energy. They are descended from the numerous small terriers from europe during the 17th and 18th century. The Affenpinscher is a smart, sturdy and very alert and are a perfect watchdog that is afraid of nothing.
2. Bedlington Terrier
The Bedlington terrier is the only dog that has a lamb like appearance and  also have an entertaining personality. He got all of the classic terrier traits, intelligent, alert and aggressive towards small animals outdoors. Originally he was used as a killer for vermin and as a sidekick for poacher's.
Today however they are excellent companions and and great in the show ring. They do still however have very good hunting instincts but they are rarely used in the field anymore.
3. Bichon Frise
These guys have small compact bodies and a very cute baby doll face. They got white fluffy hair and are often mistake for white poodles. They are very kid friendly as well. They are one of the happiest and most cheerful companions you can have.
The Bichon have a reputation to suffer from seperation anxiety, so if you need to leave your dog home alone for long periods of time, this might not be the dog for you. They don't just want to be with there family, they need to be with their family.
4. Border Terrier
Border terrier is a small dog with a very powerful drive for hunting and digging. They also have the typical high energy level of a terrier. And a good natured personality, he is intelligent, loyal, fearless, loving and determined.
They were originally bred to assist hunters with fox hunts and to drive them out of their holes and out into the open so the bigger hounds could take over the hunt from there. These guys love to play hard, and they love even harder.
They will be perfect companions for some people, and for others not so much.
5. Greyhound
I think most people have heard about or seen Greyhounds. The original purpose this dog was bred for was to chase hare, fox and deer. There aerodynamic bodies allow them to reach speeds of 40-45 miles per hour, which makes them the fastest dog breed in the world.
But they are not only used for racing today, they are also common in obedience, agility and lure coursing. But people don't just love them for their beautiful and graceful look and speed, they are also loved for their mild and sweet nature.
6. Ibizan Hound
As the name might suggest, this dog comes from the Spanish island Ibiza. He is red and white and has a long, narrow head and large, erect ears that can point forward, sideways or be folded backward. Originally bred to hunt rabbit and other small game.
The Ibizan Hound is known as a "Beezer" by fans of the breed. They are a playful breed and can sometimes even be considered to be silly. They love snuggling with their own family.  They can however be reserved when it comes to strangers and  also protective of it's home.
7. Komondor
The Komondor basically looks like a mop walking on four legs. But under all the hair is a dog with a big personality. But the Komondor has been used for ages in their home country, Hungary, as a guard dog. The Komondor is very intelligent and independent, and of course highly protective of his family and property.
This is not a breed for people inexperienced dog owners. You need to be a strong, confident and balanced leader in order to win the respect of your Komondor. Because his highly protective instincts and suspicion of strangers can lead to him attacking someone he sees as a threat. Without your strong leadership this breed can cause you a lot of trouble.
8. Miniature Schnauzer
The Miniature Schnauzer is a small dog with a big heart. This guy has always been on the top 20 most popular breed in both the United States, England and in Germany. This is a breed that loves to have fun and play. Being with you is what he enjoys the most, it doesn't matter what you do. They are incredibly loyal.
They are also very intelligent and can learn very quickly. It's great dog to teach lots of awesome tricks, especially tricks that involves jumping.
9. Poodle
Poodle is a dog that is actually bred to do real jobs, not just being a companion. It can be easy to forget that when you see a pimped Poodle in the show ring. The Poodle's first job was as a water retriever. Poodle's also comes in three different sizes, and neither of them looses any fur. However they still need lots of grooming in order for them to look beautiful and healthy. Doing it yourself will take lots of time and patience. Otherwise you can take them to a professional dog groomer.
The Poodle are a intelligent and playful breed and therefore obedience training is an essential part that you need to do with them if you don't want them to find other destructive ways to occupy themselves.
The Puli is also known as the "Hungarian Puli" and the "Hungarian Water Dog". In their homeland, they are still used as a herding dog for sheep. The Hungarian shepherds actually have a saying: "He's not a dog, hes a Puli". That sums up how proud they are over their sheep herding companion.
Silky Terrier is a very elegent dog that has a beautiful, silky coat and is often reffered to as "The Silky". They are small but very tough and confident, might be because they were originally bred as hunters of small prey. They are loyal and love to be close to there family.
He laso got the classic terrier traits, a real terrier temperament, scrappy, tenacious and likes to dig, bark and chase.
12. Welsh Terrier
The Welsh Terrier was bred to hunt badgers, foxes and otters. Therefore he got a very strong personality. He always wants to have fun and enjoy himself to the fullest. He is very independent and might therefore not be the best bet for someone that is not an experienced dog owner.
He is also a very good problem solver and freethinker, which can both be wonderful, and problematic. If he is bored, well… he sees it as a problem to solve, which can lead to unwanted or destructive behaviour.
13. Xoloitzcuintli
The first thing I wanted to know about this breed was how to pronounce the name. You say it like this: "show-low-eats-queent-lee" or for short "show-low". Many believe that this breed descended from the first dog to ever set his paw on the North American continent.
14. Maltese Terrier 
The Maltese Terriers are known for have a very beatutiful white silky coat. But you will not find there white hair on your furniture or clothes. They are very loving and fearless. He loves meeting people and greets everyone as a friend. He is a perfect companion and also therapy dog.
But he also excels at obedience, rally, tracking and agility. A well rounded breed.
15. Havanese
The Havanese are a very social dog and are a perfect fit for a family with children. They were originally bred for companion to the Cuban aristocracy in the 1800's. He is a very loyal breed that loves to be with the family members. He is even called "velcro dog" because he sticks so cloes to his owners all the time.
16. Chinese Shar-pei
The Shar-Pei got a tongue that is blue/black and very wrinky skin. That's why you can't mistake a Chiense Shar-Pei for any other breed. This breed sheds only about twice a year, and not much.
When he was first bred it was to guard, hunt, herd and later also as a fighting dog. The breed has been around for hundred of years.
17. Airedale Terrier
This guy is happiest when he is working hard. They are a playful, smart and adventurous breed. They are the largest of all the terriers and are called "King of Terriers". They were developed to catch otters and rats.
They breed also works perfectly with children. And like all terriers, he likes digging, barking and chasing.
18. 
Portuguese Water Dog
This is a very high energy breed that loves to work. And they are just as happy to be at home as they are in the water. They have a long wavy coat, but they shed very little.
Long time ago these dogs were used as crew on fishing boats. Their jobs included retrieving lost gear and even herding fish into the nets.
19. Wheaten Terrier
The friendly soft coated Wheaten Terrier are known for their beautiful coats. And they come in four different colors: traditional Irish, heavy Irish, English and American. For a terrier, they are quite easy going and need moderate amount of exercise.  And they work perfectly as a family dog because they love most people and children  and get along well with most other animals and dogs.
However their coat requires much grooming in order for them to look good and healthy.
When it comes to training them, they can be quite stubborn at times.
20. Bullmastiff
The Bullmastiff comes originally from England and they are bred to work with game keepers. They are a very strong but also gentle breed and works perfect for a family. They only need minimal grooming and only moderate exercise to be happy. A couple of short walks every dat is enough to keep them happy.
They need to be well socialized to other dogs and animals when they are puppies, otherwise they can easily develop aggression towords other animals.
As you can see in the picture below, they drool, and quite alot. So if cleaning up drool is someting that you think will bother you, this might not be the breed for you.
21. Papillion
These guys are known for their big butterfly like ears and energy. It is one of the oldest breeds in the world. They do not work well in families where they need to be alone long periods of times. They want to be with the family all the time.
If you have small children this is not a breed for you, because when they are puppies they are very fragile and can easily be injured by rough play. This breed is also known to live long lifes, usually between 12-16 years.
22. 
Rhodesian Ridgeback
The Rhodesian Ridgebacks are known for having hair along the back that grows in the wrong direction. They are an active hunting breed that requires very little grooming.
They are a breed that is not recommended for inexperienced or timid dog owners because of their size, intelligence and power. If they are not activated they can easily develop a destructive behaviour.
They can also be hard to train if you don't start at and early age. They can be very stubborn and strong willed. However if you only stay consistent and firm, with a strong leadership, you can train them to a very high level.
23. West Highland White Terrier
This dog was actually bred to dig for vermin in Scotland. They are a very active breed that have minimal sheding but requires regular grooming to look good.
They are always looking to have a good time, and with one of these guys around you will be laughing alot watching him entertain himself. They are very friendly and happy and have a very lively nature with a very strong prey drive.
24. Vizsla
Vizla's original job was to flush game. Today they can be found both on the field and in show. They are a very active breed that needs a minimum of 60 minutes of walking each day. They also love playing fetch or go for a run with their owner.
They are very loayl and will follow you from room to room in your home and they love being touched by their family members.
If your dog is going to be home alone for long periods, this is not a breed for you. They can easily develop seperation anxiety which can lead to destructive behaviour that can both destroy you home and heart your dog.
They work great with other dogs and even cats (if they are raised together). However they will not work in a family that has small pets, such as birds, rabbits or guinea pigs.
25. Brittany
Brittanys are a sporty breed and a fun companion. They are independent, smart and social. They were bred as hunters.
They need atleast 60 minutes of intense exercise every day otherwise they may develope a destructive behaviour or they might become neurotic. However they are also a smart breed, and therefor they also need mental stimulation on a daily basis. Training for different dog sports is a good way to provide this for them.
They were originally bred as gundogs and is a great companion for hunters.
26. Mastiff
It's hard to mistake this breed with their massive body and their wrinkly foreheads. They are very loyal companions and they are very powerful and gentle.
The Mstiff needs daily exercise, but you need consider the temperature outside, because they can easily get overheated.
It is one of the oldest breeds in the world. Mastiff's ancestor, the Molossus, was known for over 5000 years ago. Back then he was known a a ferocious war dog, that is very differnt from the dog he is today.
If you can stand his massive size and his drooling, he is a great companion.
27. Chihuahua
Relative to their size, Chihuahuas have the biggest brain of all breeds. They come with two different coat types: long and smooth coats.
And believe it or not, but this little guy is among the top 10 guard dogs recommended by experts.
He loves being with his family and he only needs minimal grooming and exercise. However if you have small children you should have get a Chihuahua. Because he is so small and fragile, toddlers can hurt them while they are playing. Most Chihuahua breeders don't sell puppies to families with children under the age of 8.
They also have one of the longest life span of any breed, expect them to live up to 18 years.
28. Boston Terrier
They are very playful and friendly and loves to be around their owners. Grooming these guys are easy. They were originally bred as a fighting dog, but today they are a very gentle and affectionate companion known as the "American Gentleman" because of their tuxedo like makrings on their coats.
Be carefull about pulling the leash with these guys, because it is common that they have respiratory problems.
Because of their small short nose they can often snort, drool and snore. They also have a problem with cooling air that is going into their lungs, like dogs with longer noses can. Therefore they can much easier can heat stress.
29. Doberman Pinscher
A tough and athletic breed that are known for their intelligence and their abilities as a guarddogs that was originally bred in germany during the late 19th century.
He is a very intelligent and high energy breed that works perfect as a police or military dog. Or for different dog sports and as a guardian and companion for the family.
This is not a dog for inexperiened dog owners. You need to establish a strong and well balanced leadership right away otherwise the Doberman will take the role as alpha dog in the pack. Which can lead to many differnt problems, including aggression.
30. Rottweiler
Rottweilers first job was to herd  cattle to markets. After that they have also been used by butchers to pull carts.  These guys are very alert and always aware of their surroundings. That is one of the reasons that this was the first dog police started using. They are also serving in the military. They are a very popular breed as both family protector and companion.
Beware that if you own a Rottweiler you will sometime be subjected to unfair judgements about your dog because people are afraid of the breed because they calim they are dangerous. That is simply not true, a Rottweiler that is well taken care of and have been well socialized from early ages are a very friendly and loyal dog that loves to be with their family.
When you raise a Rottweil, keep in mind that they will test you to see if you really mean what you say. Therefore be very consisten, firm and specific about what you ask. Don't leave them with any loopholes that they can exploit.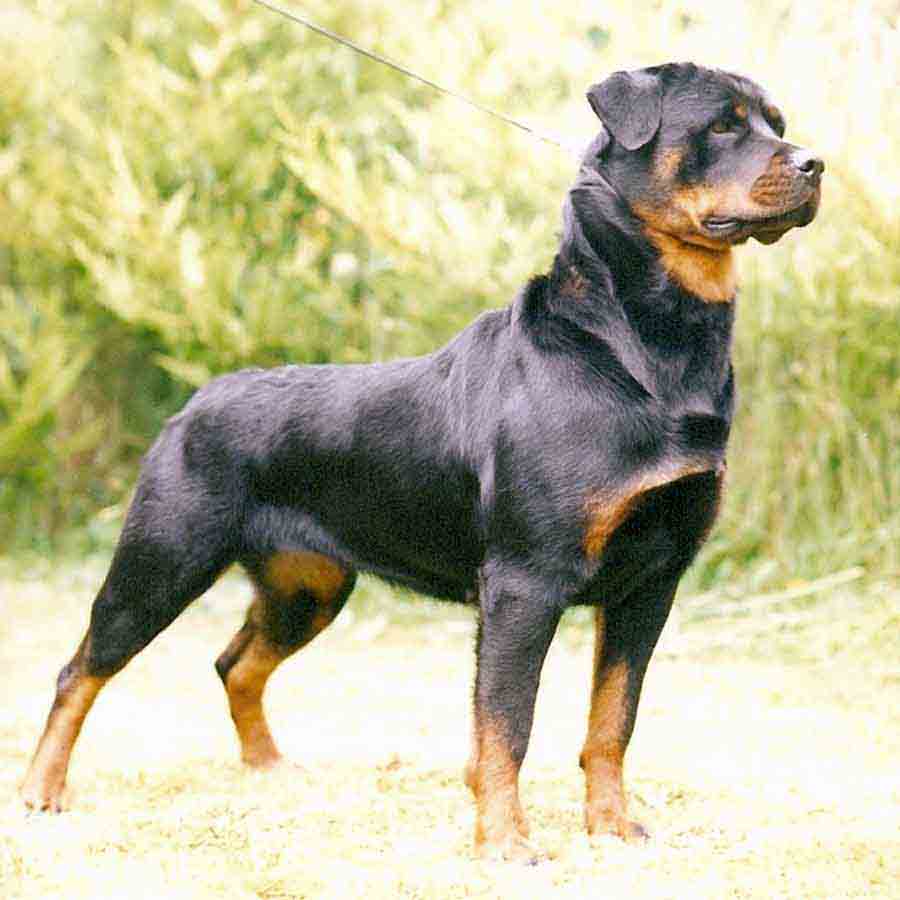 There you have it! 30 different breeds that have minimal shedding and are perfect for families that are allergic but still wants a canine companion! As you can see the list contains many terrier breeds because many of them do very little shedding.